/
/
Fan Fest at Thrive City – NBA Finals: Warriors at Celtics Game 3
Fan Fest at Thrive City – NBA Finals: Warriors at Celtics Game 3
Posted By melaniegarcia on June 6, 2022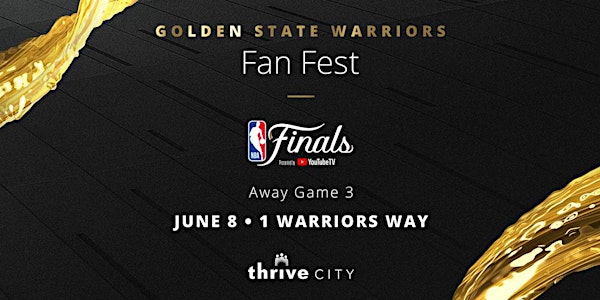 The Warriors are in the NBA Finals! Chase Center is excited to welcome fans to Thrive City for outdoor watch parties for both Warriors NBA Finals home and away games.
Fans watching games at Thrive City are required to register via Eventbrite. Fans without an Eventbrite ticket showing proof of registration for the applicable game will be denied entry. In addition, registration does not guarantee admission. Space is limited and subject to availability. First come, first served.
The NBA Finals viewings at Thrive City will be standing room only with two (2) outdoor locations for fans to enjoy the game: the West Plaza (our main west-facing videoboard) and on the Esplanade (our north-facing additional viewing location near Harmonic Brewing). Enhanced security protocols will be in place for these NBA Finals viewings, and registered fans must enter from the ramp on 3rd and 16th Street (next to Philz Coffee).
All pets must be on a leash at all times.
The following items are prohibited inside Thrive City:
Weapons and dangerous devices of any kind including, but not limited to, pepper spray, flares and fireworks, tasers/stun guns
Bottles or cans
All bags
Coolers
Blankets
Lawn chairs
Alcohol, cans, bottles, flasks, coolers (bag check will be available)
Drugs, illegal substances
Pamphlets, product samples
Skateboards, rollerblades, bicycles, helmets, chairs
Laptop computers without proper credentials
2-way radios
Drones
All Signs/flags/banners/posters will be inspected by GSW management
Frisbees and beach balls
Laser pointers
Metal objects of any kind
Any noise-making device (i.e. air horns, whistles, drums, plastic horns, etc.)
Amplified sound
Strollers
Any other items deemed unacceptable by Arena Management
Date and Time:
Wednesday, June 8, 2022, at 5:00 pm
For reservation, please visit: https://www.chasecenter.com/thrivecity/events/warriors-fan-fest-nba-finals-game-3-20220608