/
/
SF Noodlefest 2022 by Chinatown CDC and North Beach Business Association
SF Noodlefest 2022 by Chinatown CDC and North Beach Business Association
Posted By melaniegarcia on April 29, 2022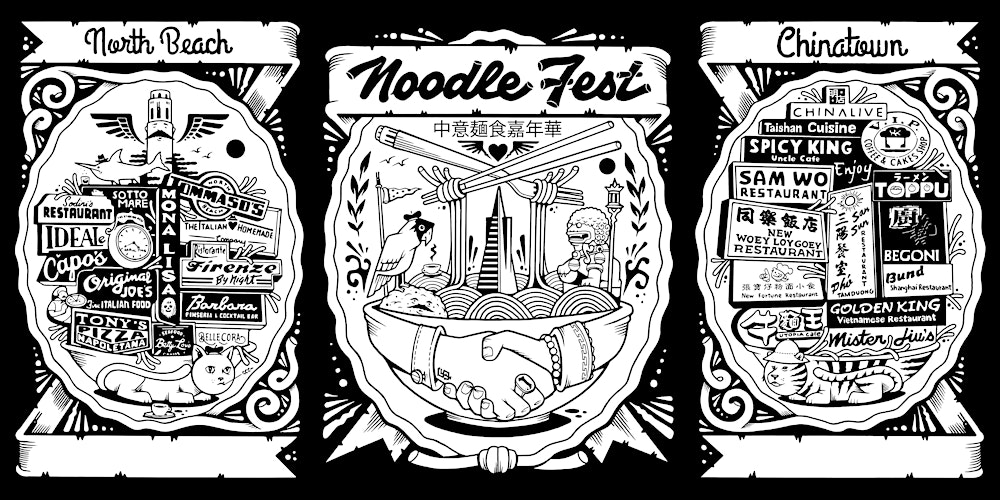 About this event
Back after 10 years, Noodlefest 2022 is a celebration of North Beach and Chinatown's culinary heritage – showcasing 30 different vendors from these distinct and culturally rich neighborhoods. We are coming together in unity to share good food and support our local and legacy businesses. Our celebrity guest judges Chef Martin Yan, Food Writer and Restaurant Critic for SF Chronicle Soleil Ho, and Travel Writer and Columnist for SF Weekly "Broke-Ass" Stuart Shuffman will join us to taste our noodles – you won't want to miss it. Give our community some LOVE by joining us on April 30th from 2-4 PM!
Where is the event? Noodlefest will take place in Chinatown and North Beach, along historic Grant Avenue between Green Street and Pacific Avenue.
SF Noodlefest 2022 is supported by the City of San Francisco's Office of Economic and Workforce Development, the North Beach Business Association and Chinatown Community Development Center.
While tickets are SOLD OUT, a limited amount will be available for $35 on a first-come, first-serve basis on the day of the event.
Please note that as per Article 19L of the San Francisco Health Code, smoking is prohibited at this event.
Date and time
Sat, April 30, 2022
2:00 PM – 4:00 PM PDT
Location
SF Noodlefest 2022
606 Broadway
San Francisco, CA 94133
For ticket information, please visit: https://www.eventbrite.com/e/sf-noodlefest-2022-tickets-298733629327