/
/
Christmas in San Francisco: 9 Fun Things You Can Still Do (Dec. 24-25)
Christmas in San Francisco: 9 Fun Things You Can Still Do (Dec. 24-25)
Posted By kcubas on December 24, 2020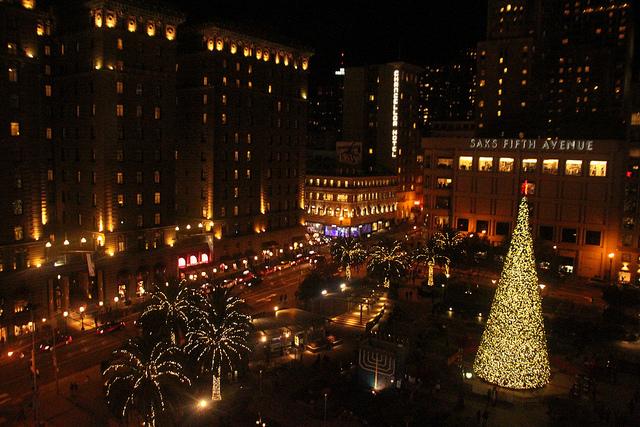 Yes, COVID sucks and most everything is shut down or gone virtual. But there are still a few socially-distant things you can do on Christmas Eve and Christmas.
If you choose to go out, just make sure to mask up, stay socially distant and don't mix with other groups outside your household.
Thursday, December 24, 2020 – 10:00 am to 2:00 pm
Ferry Building | The Embarcadero and Ferry Plaza, San Francisco
Satisfy your last-minute holiday needs and warm up with some free hot apple cider Thursday, December 24. You'll find our regular Thursday farms along with pop-ups like Hog Island Oyster Co., Delightful Foods (pie), Root Down Farm (pastured meat), and more to make for a unique, delicious, and truly local feast.
Thursday, December 24, 2020
Mel's Drive In (Lombard + Geary)
Outdoor dining might be officially banned, but Mel's carhop service is technically "delivery" since they bring it to your car so they are allowed to be open. It's a fun date night as long as you don't mind your car smelling like patty melts and milkshakes. Mel's first opened on December 23, 1947 in San Francisco so this week is their 73rd anniversary.
Thursday, December 24, 2020 – 7:30 am to 4:00 pm | Cost: FREE
24th Street BART | 24th Street and Mission, San Francisco, CA
OK, this isn't "fun" by any stretch. But it is cheap. This free and no appointment necessary testing site has popped up to serve the Latinx community for just two days (December 23-24). This isn't meant for if you are being frivolous and are traveling or gathering with friends and want to make sure you're ok. This is for essential workers, the Mission community and if you're experience symptoms or recently had exposure.
December 24-25 starting at 5:30p
Tickets $8.50 for adults / $2 kids
Yes, the Bay's two drive-in movie theaters – one in Concord and one in San Jose – are still open and showing movies nightly. San Jose is larger and has more screens and is showing a bunch of xmas movies on xmas eve. On Christmas night it's normal films including Wonder Woman 1984 at both locations.
One of the rare days in SF where parking meters throughout the city are completely free (the other free days are Thanksgiving and New Year's Day). Plus there's no street sweeping or residential permit parking tickets. But just remember, tickets can start again at 12:01am on Christmas night. Plus red zones, no stopping, no parking zones are still enforced even in Christmas.
Friday, December 25, 2020 – 7:30 am to 4:00 pm | Cost: FREE
San Francisco Botanical Garden | 1199 9th Avenue, San Francisco
The San Francisco Botanical Garden is one of the most diverse gardens in the world. A unique urban oasis, the garden is a living museum within Golden Gate Park, offering 55 acres of both landscaped gardens and open spaces, and showcasing over 9,000 different kinds of plants from around the world. The gardens (normally $9 for adults) is free for all on Christmas Day.
Friday, December 25, 2020 – 9:30 am | Cost: FREE
Safeway Parking Lot (Outer Richmond) | 850 La Playa St., San Francisco
If you want to make a ruckus, this anti-ICE and defund the police protest will be meeting up in the Outer Richmond at 9:30am and then driving out at 10am with noisemakers and horns blazing through some of the richest neighborhoods in SF because "injustice never takes a holiday."
Take a drive and see some of SF's and the Bay Area's most holiday-rific light shows including the Tom & Jerry House in San Francisco, the Entwined lighted forest in Golden Gate Park and Fremont's "Crippsmas Place" Festive Neighborhood Lights.
Thursday, December 24, 2020 – 1:00 pm to 6:00 pm | Cost: FREE
Tripp Distillery | 1121 Palmetto Ave., Pacifica, Ca
Tripp Distillery in Pacifica is giving away free Whisky tastings to go (due to COVID no onsite consumption). Enjoy a walk at the beach and pick up last minute Christmas gifts, great location with hiking trails and fun restaurants.
Please double check event information with the event organizer as events can be canceled, details can change