/
/
20th Annual Sonoma International Film Festival
20th Annual Sonoma International Film Festival
Posted By on March 21, 2017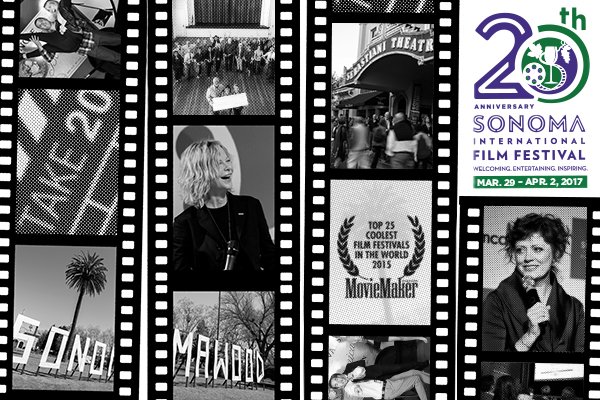 The Sonoma International Film Festival takes place each spring in the beautiful wine country community of Sonoma, California. The festival is widely acknowledged as one of the top 10 destination festivals in the world, with food, wine, a relaxed Mediterranean climate and lifestyle, artistic and natural beauty … all providing the perfect accompaniment to enjoying the highest quality new independent filmmaking.
Now in its 20th year, the Sonoma International Film Festival (March 29 – April 2, 2017) takes place in the heart of Northern California's Wine Country and will feature more than 90 hand-selected films including independent features, documentaries, world cinema,  and short films. All films are shown at intimate venues within walking distance of Sonoma's historic plaza. The Festival is dedicated to promoting independent film, supporting filmmakers around the world and inspiring film lovers.
This unique 5-day event offers world-class cuisine from local artisans and exceptional wine from Sonoma vintners. Renowned filmmakers, industry leaders and celebrities such as Bruce Willis, Susan Sarandon, the beloved Robin Williams and Danny Glover have walked the festival red carpet and enjoyed its intimate ambiance.
For information on festival venues & directions, visit http://www.sonomafilmfest.org/festival-venue-location-map.html.